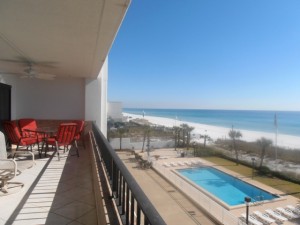 For the beach-goer in all of us, we want you to know that we have a luxurious place to stay when enjoying the sights and sounds of the Emerald Coast. When staying with Breakers East Condos, you are right on the beach. Each of our condos have 30 foot balconies which offer a unique sunset view over the gulf.
Beachfront property doesn't have to be just a dream or a fantasy; it can be real. With proper research and an appropriate budget, Destin beachfront condos from Breaker's East are a great solution when figuring out where to stay while on vacation.
We are located on Highway 98 East, steps away from restaurants, shops, and our white sandy beaches. Contact us today for more information on our available Destin beachfront condos!

Our Destin beachfront condos offer relaxing beachside heated pools, barbecue grills, and lighted tennis courts for you and your family to enjoy while on your Destin vacation.
Click here to contact the knowledgable staff at Breaker's East today!